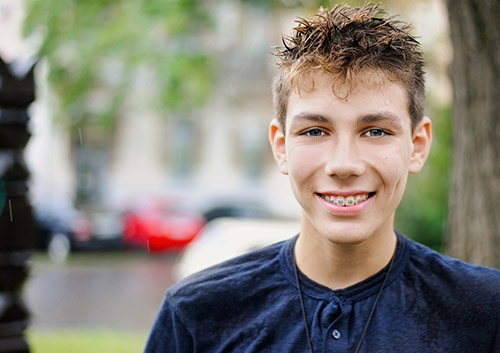 Analyzing strong points, looking for potential problems, making comparisons—it's bracketology time! Nope, not basketball (although we hear they have something similar), but a brief analysis of your orthodontic options when it comes to choosing a winning bracket.
If you're getting braces, you're probably already familiar with how they work—brackets are bonded to the teeth to hold an archwire, which provides gentle, controlled pressure to move the teeth into alignment. But within that basic bracket-and-wire system, there are several different bracket designs available to you at our Andover orthodontic office. Let's see what the scouting report has turned up on our final four, pointing out their distinct advantages as well as some potential mismatches.
Traditional metal brackets
Advantages:
Traditional braces with metal brackets are effective for more than just straightening teeth. They can be used to correct rotated teeth, differences in tooth height, and bite problems. For severe bite and alignment problems, traditional braces are most often the right choice.
Metal construction makes these brackets able to handle the controlled pressure needed to treat serious malocclusions.
Cost-effective. These are usually the least expensive option.
Potential Disadvantage:
Clear/Ceramic Brackets
Advantages:
Lack of visibility! Whether you go for clear brackets or brackets tinted to match your enamel, you'll be keeping a low-profile with this choice.
Stronger and more stain-resistant than ever before, using the latest in ceramic, porcelain, or plastic materials.
Potential Disadvantages:
Not as durable. Unlike metal, these clear brackets can crack or break. If you play a contact sport, these might not be for you.
Some ceramic brackets are larger than other choices, so might be recommended only for the top teeth.
Clear or tinted brackets can be more expensive.
Self-Ligating Brackets
Advantages:
These brackets use a clip or trapdoor mechanism to hold your archwire without the need of bands. Ceramic options are available if you want an even more discreet appearance.
Can be more comfortable with less friction between wire and bracket.
Potential Disadvantages:
Self-ligating braces are generally more expensive.
Lingual Braces
Advantages:
Lingual braces use metal brackets, but they attach to the back of each tooth for almost invisible bite correction.
Custom-made. Lingual brackets can be designed and fabricated to fit your individual teeth perfectly.
Potential Disadvantages:
Trickier to clean because of their placement behind teeth.
Might not be suitable for a deep bite if there's not enough clearance between top and bottom teeth.
Initial discomfort caused by the tongue's contact with the braces when you speak and eat.
Custom-made brackets are more expensive.
So that's a brief rundown of your bracket choices. But, unlike sports bracketology, there are no losers here! Dr. Kathleen Chan and Dr. Ivy Chen can give you the pros and cons of each bracket design, so you can make an informed decision based on the kind of braces which will work best for you. With coaching like that, no matter which bracket option you choose, the final result is the same—a winning smile!