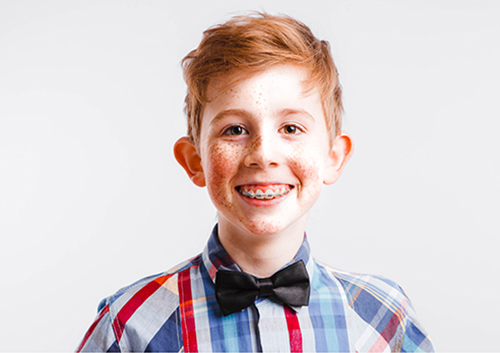 If you've just gotten braces at our Andover office, you've probably also learned a whole new vocabulary. Malocclusion, brackets, archwires, ligatures, elastics—you've got the definitions down. But now you're scheduled for an "adjustment." What exactly does that mean?
Why Do I Need an Adjustment?
After all, you've just gotten braces! But the fact is, moving your teeth to their ideal location is a process that involves many steps. The brackets and wires you have today are only a starting point. Wires, and rubber bands if you need them, put gentle pressure on the teeth, gradually moving them into a better position. Every time we see you, we check the progress you've made and adjust your braces to move the teeth into even better alignment. It's a careful process to make sure your teeth and jaws fit together perfectly for straight teeth and a healthy bite.
What Will Happen at an Adjustment?
Because your braces are made specifically for you, there is no one answer for everyone or even every appointment. Usually, your ligatures (the colorful bands around your brackets) will be removed, and often the orthodontic wire that is attached to your brackets will be removed as well. We'll check to make sure you are brushing and flossing properly around your wires and brackets, and check on the condition of your braces.
Your wire might be adjusted, or bent, or tightened, or replaced all together. In the beginning, the wire will probably be more flexible. Later in your treatment, you might get a thicker, firmer wire to move your teeth more effectively, or we might bend a wire to move specific teeth.
If you need rubber bands to make sure your bite is in alignment, we'll show you how to attach and take care of those. We'll also look for other adjustments that might need to be made to your brackets. If you have any concerns about brackets, wires, or any other part of your braces, let Dr. Kathleen Chan and Dr. Ivy Chen know! And once we're done adjusting your braces, this is your chance to change the color of your ligatures for a new look.
Will It Hurt?
You might suffer some discomfort in the hours after an adjustment, so treat yourself gently! Stick to soft foods for a few days, and treat yourself to something cold and soothing like ice cream, yogurt, or a smoothie. Brush gently if your teeth are sensitive. Usually, over-the-counter pain relievers will take care of any soreness. You can even take a pain reliever 30 minutes to an hour before the adjustment if you are expecting some discomfort. We have more great ideas on how to reduce any tenderness you might feel—let us know if we can suggest some.
Within a day or two, you should be back to normal. If you ever suffer serious discomfort, or if the soreness lasts more than a few days, give us a call.
Remember, each adjustment brings you closer to your goal—straight teeth and a healthy bite. And that's the definition of a beautiful smile!