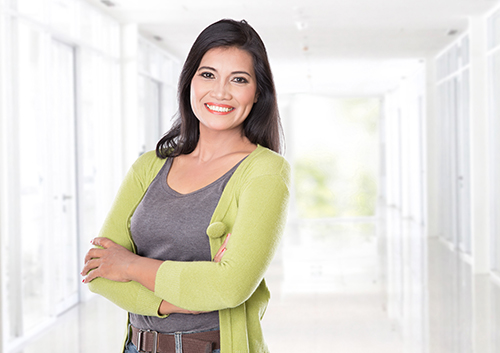 When you get braces as a child, you usually present the orthodontist with a blank canvas—newly erupted, perfect permanent teeth, just waiting to be aligned. But if you are a bit older, your canvas might already be a bit busy, with fillings, crowns, perhaps even a missing tooth. Can Dr. Kathleen Chan and Dr. Ivy Chen still work with that more complicated picture? Yes!
Many of us have acquired a filling or two. Normally, an old filling shouldn't interfere with new braces. Large fillings, however, might call for spacers. These small rubber bands are inserted between two teeth as needed to create enough room for bands and brackets, and are generally put in place a week or two before you get your braces. They frequently fall out on their own as the space between the teeth gets a bit wider.
If you have had a root canal or any other dental treatment that left you with a crowned tooth, no need to be concerned. A special dental adhesive can be used to adhere brackets to crowns.
If you have or would like to get an implant, this is a time to coordinate with your orthodontist and dentist or oral surgeon. Sometimes an implant can anchor your appliance, and sometimes it's best to keep the spot open until your orthodontic work is completed. Once in place, an implant will not have the mobility of a tooth, so it's always best to make sure your doctors can create a schedule that will work for both the installation of the implant and the positioning of your braces.
Before you begin orthodontic work, talk to your dentist. If you need a filling or crown, are considering a dental implant, have symptoms of gum disease, or are looking at any other dental concerns, you should work with your dentist first. Healthy teeth and gums are the very best foundation for orthodontic treatment at any age.
If you are wondering whether Dr. Kathleen Chan and Dr. Ivy Chen can help you achieve the smile you've always wanted, talk to us when you visit our Andover office! Your past dental work will be just one of the many variables we take into consideration when we're planning your future of picture-perfect smiles.