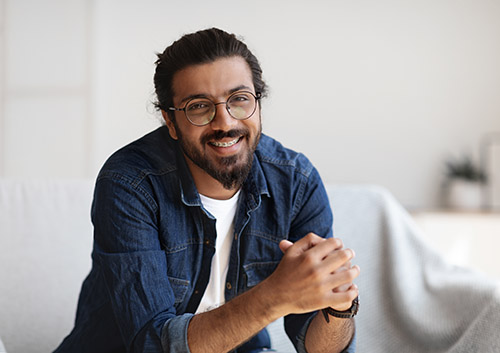 The words "overbite" and "overjet" certainly sound similar. Both conditions concern your front teeth. Both conditions fall under the same category of bite problems—Class II malocclusions, if you want to be technical. So it's not surprising that they're often used interchangeably. But while there are similarities, overbite and overjet are also distinctly different.
Overbite/Overjet Geometry
In a healthy bite, the front top teeth project slightly beyond, and slightly overlap, the bottom teeth. The key word here is "slightly." With a Class II malocclusion, the upper front teeth project further beyond the lower teeth than they should.
Of course, teeth and bites are as individual as we are, so there are variations in just how and just how much the overlap occurs. In diagnosing an overbite vs. an overjet, the difference comes down to a matter of vertical vs. horizontal.
An overbite, or deep bite, occurs when the top teeth vertically overlap the bottom teeth more than they should for a healthy bite. Generally, when a person's top teeth cover more than a quarter of the bottom teeth when biting down, or more than two to three millimeters, that person is said to have an overbite.
An overjet, commonly known as protruding or buck teeth, is the result of a horizontal overlap that is broader than normal. This causes the top teeth to project outward toward the lips more than they do in a typical bite. An overjet is usually diagnosed when the horizontal distance between the top and bottom teeth exceeds two to three millimeters.
The causes for both an overbite and an overjet might be dental (caused by tooth alignment), or skeletal (caused by bone development), or a combination of both. These bite problems can run in families. They are also affected by the size and position of the jaws and the shape and position of the teeth.
Early oral habits, such as prolonged and vigorous thumb-sucking or pacifier use, can also contribute to the development of a Class II malocclusion, particularly an overjet. Consistent pressure from thump or pacifier pushes the teeth outward as they erupt, which encourages them to protrude. These oral habits can affect the shape of the palate and jaw, too.
Overbite/Overjet Treatments
There are many types of treatment available to correct teeth and bite misalignments. Dr. Kathleen Chan and Dr. Ivy Chen will tailor your treatment to your specific malocclusion for the best orthodontic outcome.
If you have a mild malocclusion, and minor dental issues are the main cause of that malocclusion, either braces or clear aligners can be effective for an overjet or an overbite. Elastics (rubber bands) are often used as part of this treatment.
If the malocclusion is due to bite problems caused by uneven upper and lower jaw development, devices called functional appliances can be used with braces to help guide the growth of the jawbones while young patients' bones are still forming. These include appliances that work inside the mouth to help the upper and lower jaws grow proportionally, and external appliances such as headgear.
In some cases, where the malocclusion is skeletal in nature as well as dental, surgical treatment might be necessary to reshape the jawbone itself. Orthodontic treatment is usually needed as well both before and after surgery.
Overbite/Overjet Consequences
Over time, a deep overbite can cause damaged gum tissue, worn enamel, and fractured teeth. When teeth protrude because of an overjet, they can lead to self-consciousness and are more at risk for injury. Both malocclusions share dental and medical consequences, including concerns about facial and jaw appearance, problems speaking or chewing, headaches, and face and jaw pain.
Class II malocclusions aren't all the same, and orthodontic patients aren't all the same either. You may have a minor malocclusion or a significant one. You may have an overbite, or an overjet, or a combination of different bite and alignment concerns. Your malocclusion may not bother you at all, or it may cause pain, discomfort, or self-consciousness.
That's why every overbite or overjet should be evaluated by an orthodontist. When you visit our Andover orthodontic office, Dr. Kathleen Chan and Dr. Ivy Chen will be able to diagnose the exact nature of your malocclusion, the reason for it, and your best individualized treatment plan. An overbite and an overjet are different malocclusions, but you and your orthodontist want the same outcome for each: a healthy, attractive, and confident smile!