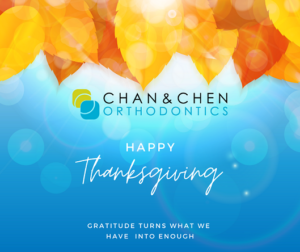 Happy Holidays from all of us at Chan & Chen Orthodontics!
We want to take this time to let all our wonderful patients and families know how much we appreciate you.  We are grateful to have you in our lives and honored to provide your orthodontic treatment.
We have learned, especially in the last two years, that being thankful for those around you is incredibly important. We are so grateful for our health and that of our families. It is so important to be grateful for who and what we have.
As a reminder, with the end of the year coming up, appointment times are filling up. If you are looking to schedule an appointment, please do so in advance as our afterschool and holiday appointments fill up very quickly.
We can't wait to hear about your holidays at your next appointment! We wish you all a safe and Happy Thanksgiving!