Happy October from Chan & Chen Orthodontics! We love an opportunity to get festive and the start of the fall season is no exception.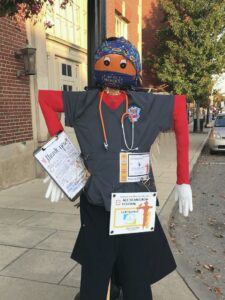 There is a lot going on in the month of October. First of all, it's National Orthodontic Health Month! We are embracing the power of healthy smiles and how orthodontic treatment can help you perfect your smile at any age. A beautiful smile is one of your best assets, boosting your self-esteem and giving you the confidence to present yourself in any environment. Orthodontic treatment helps to align both the teeth and the jaws, creating a healthy balance of esthetics and function. With many advances in technology, today we have more choices than ever to achieve a healthy smile.
October also means Halloween! Halloween may be rather different this year, but when it comes to indulging in sweet treats, Dr. Kathleen & Dr. Ivy recommend avoiding hard or chewy candy for those with braces or appliances. Usually chocolate is an acceptable treat since it can melt in your mouth. With Invisalign, there are no food restrictions so you can enjoy what you like. Whether you have braces or Invisalign, be sure to brush and floss your teeth after eating treats!
In our office, we diligently continue with our usual protocols as outlined on our website under the coronavirus tab. Our usual highest standards of infection control have been further enhanced with several medical-grade air purifiers and an upgraded HVAC system. We are totally obsessed with clean air and keeping everyone safe and healthy!
The 8th annual Andover Coalition for Education Scarecrow Festival is on from October 17-31st in downtown Andover. Come check out our scarecrow at the corner of Main and Chestnut Streets. This year we are paying tribute to the frontline heroes battling the pandemic. Our hearts and gratitude go out to our frontline workers.
We are currently holding a pumpkin decorating contest. You can decorate your pumpkin at home and send a photo to us at info@ccorthodontics.com. We will post the photos @chanchenortho on Facebook and Instagram, and have a vote for the prize-winning pumpkin. We look forward to seeing how creative everyone can be!
We hope everyone has a wonderful start to Fall and a safe Halloween.